The Best Spas for Socializing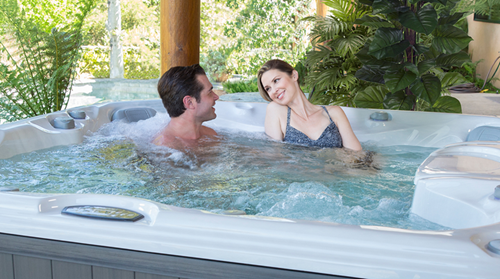 What are you most looking forward to once you're the proud owner of a new Sundance® spa? For many people, the answer is spending time with friends and loved ones. There's a good reason—research shows that socializing improves your brain health and immune system, and may even lead to a longer life.1 It's time to browse hot tub seating options and start having fun.
What to Look For
There's nothing better than inviting your family and friends over for a backyard barbecue and some hot tub time. If social gatherings are high on your list of spa priorities, you'll want to look for open layouts and hot tub sizes with more seating options. Differing hot tub seat heights will ensure people of all ages can enjoy the tub comfortably.
Our 6+ seat hot tubs have room for everyone and some great features, too. The 980™ Series is full of features that make these luxurious hot tubs fun for everyone, like wide seats with plenty of room, plus a lounge deck for additional seating. The deck is not only great for conversation and offers a seat to anyone who only wants to soak their legs and feet in the spa, it also doubles as a built-in SunCooler™ cold storage area to keep drinks within arm's reach, so you never have to miss out on the fun. And, exterior lighting and designer touches impress your guests and blend beautifully with any decor.
Hot Tub Seating Options
The Aspen® model offers the most seating variety, with room for up to eight adults. You'll also find the most Fluidix® jet variety of any of our spas and diverse seating options. It's the only Sundance® spa with bench seating, and illuminated grab bars make it easy for all your guests to enter and exit the spa. That's what we call a crowd pleaser.
Our 4-5 seat hot tubs are great for small families and couples. The popular Marin® spa offers an array of seating options, plus a low profile that makes it easy for everyone to enter and exit. Stretch out in the lounge for a full-body massage—the unique seating arrangement allows your partner to sit side-by-side with you as you gaze at the stars.
And remember, any size spa can be your own private getaway. In our larger spas, you can host an incredible hot tub get-together, but they're also perfect for solo soaking or great conversation with just one other person while taking advantage of the variety of massage options. Whatever social events you're planning, we have the spa for you. Visit your local dealer, then get ready for nights spent relaxing with your partner or weekend gatherings with the whole family. The most popular place to get away is about to become your own backyard.
[1] Angela K. Troyer, The Health Benefits of Socializing, Psychology Today, https://www.psychologytoday.com/blog/living-mild-cognitive-impairment/201606/the-health-benefits-socializing.